Matt Stanley Biography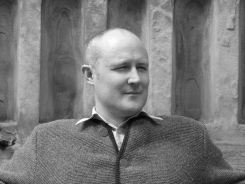 Matt Stanley was born in Sheffield in 1971. Following a degree in English and American Literature at the University of East Anglia, he taught English in Greece, China and Poland.

Along the way, he's worked as a bookseller, a holiday rep, a hack journalist and a subeditor. For the last few years, he's been a freelance copywriter and – as James McCreet – is the author of a series of Victorian detective novels and a textbook on novel structure (Before You Write Your Novel, Routledge 2016). See also www.jamesmccreet.co.uk

In 2012, he won the main prize in the Guardian's travel-writing competition. Judge Colm Toibin wrote: "This piece is written with flair and economy. Some of the short, darting, declarative sentences manage to suggest a great deal. The story is filled with sharp detail and yet it exudes a kind of mystery. In other words, the city is real, but 'the other me' remains ambiguous and may, indeed, be a dream aspect of the wandering self. This makes the layered account of being in a foreign place exact and credible, but also filled with a sense of adventure and uncertainty."


A Collar for Cerberus is his tenth novel in ten years.
How I Found the Agency
Having never previously had an agent, I've sent manuscripts to virtually all British agents in recent years. This time, I sent my book to the one agency I'd somehow overlooked and they got back to me within days saying yes. Fate?