Beazie Nickols Biography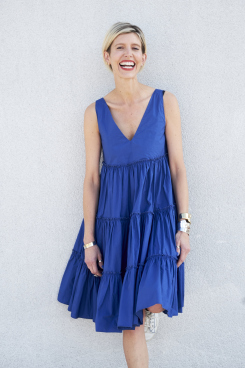 Beazie Nickols lived for the first 24 years of her life at 7 Whitehead's Grove, around the corner from Sloane Square. She went to school at Frances Holland in Chelsea, studied theatre at Warwick University and became a publicist for Hollywood actors, travelling between London, New York and LA.
Having always been interested in design, in 2002 Beazie began working in the heart of London's gem district, in Hatton Garden, learning about rare gemstones and designing jewellery. In 2005, Beazie moved to Bangkok, the gem capital of the world, and in 2006, she started her first brand, designing fashion jewellery. In 2009 she established a fine jewellery company, under her own name at the time (Beazie Roberts), designing for private clients and her first collection was showcased at Dover Street Market.
Beazie has attended numerous writing courses and retreats, in London, Thailand and online and she regularly published articles in a parenting magazine whilst living in Bangkok.
During lockdown in 2020, Beazie decided it was time and she was ready to complete Whitehead's Grove, a memoir conceived many years ago in the midst of the struggles it describes.
She now lives in Putney with her three daughters and husband, a short physical distance but a world away from Whitehead's Grove.