Warren Dockter Biography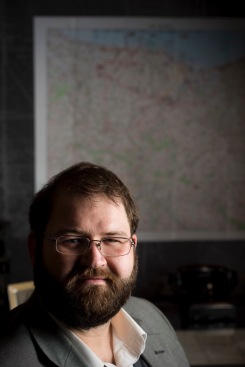 Warren Dockter is a Research Fellow at Clare Hall, Cambridge and lecturer at the University of London, Royal Holloway. He is a historian who studies British Imperialism and international relations in the nineteenth and twentieth centuries, especially concerning the Middle East. He is also an expert on Winston Churchill and is the Academic Officer for the International Churchill Society (UK) and a contributor to Churchillcentral.com and the Daily Telegraph.
Warren Dockter is a graduate of the University of Tennessee and gained his PhD at the University of Nottingham in July 2012. He has taught at the University of Exeter and the University of Worcester and was an Archives By-Fellow at Churchill College. His first book, Winston Churchill and the Islamic World: Orientalism, Empire and Diplomacy in the Middle East (2015), examines Churchill's policies and attitudes towards the Middle East and Islam. His research indicates that for much of his career, Churchill was not, as conventionally deemed, indifferent to matters in Islamic regions or even contemptuous of Islam. In so doing, it critiques the large body of work surrounding Churchill's relationship with the Empire, and demonstrates how Churchill altered the way we conceptualize and discuss the Middle East. He has also edited a collection of articles that Churchill wrote for the Daily Telegraph which was published as Churchill at the Telegraph (2015).
Warren has also worked as a historical consultant on a number of projects regarding Winston Churchill. He has worked with Blakeway Productions on documentaries and Touch Press (a London based Software developer) on their app app 'Think Like Churchill'. He has also acted as a research assistant to historians such as David Dilks and Richard Toye as well as major public figures like Boris Johnson, Alan Watson, and Lord Williams of Elvel. Currently, Warren is working with the International Churchill Society and the US embassy on organising seminars regarding the Special Relationship and with the Churchill War Rooms he is working on a museum exhibition based on his research, tentatively entitled 'Churchill's Middle East'.
How I Found the Agency
I first met Andrew Lowie at the Gibraltar Literary Festival in 2015 and after and after several interesting conversations, we realised how much our interests in history overlapped. After researching the agency, exploring their website and coming to know their reputation for excellence, it was clear that the Andrew Lowie Literary Agency was a perfect fit for my work.